It appears that the developers at Code42 may have released another iteration of buggy update in August.
All versions of CrashPlan, including CrashPlan Home, CP for Small Business (previously CrashPlan PRO) are affected by it.
Not only the update keeps failing but it also stops CrashPlan service and ultimately leaves you without functional backup.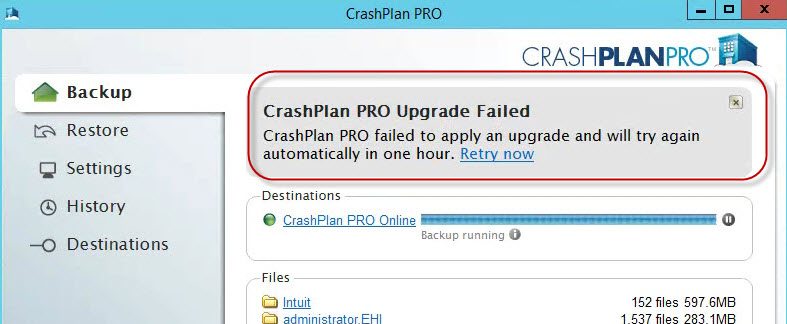 What support folks at Code42 are nonchalantly recommending as a solution is to simply uninstall and reinstall the application, if the CrashPlan app never finishes upgrading. Your backup is said not be affected by uninstalling the CrashPlan app.
Code42 Helpdesk says:
If you are able to access the Settings > Account tab, can you confirm that you are logged into admin@xxxxx.com? If so, then we are referencing the same account, and therefore, the previous version was not cleanly removed. You will want to uninstall the software so that there is no trace of the previous install of CrashPlan, and then make sure you have reinstalled with the newest version (from the newest installer downloaded from the web console).
Say what?
It looks like they didn't learn from the previous mistakes when CrashPlan was perpetually failing during an update a few years back.
If you're currently using CrashPlan as your cloud backup perhaps it is time to re-evaluate and look for an alternative cloud backup solution for small business?