Even though Microsoft had long closed the window for free Windows 10 upgrade – when they were initially pushing it to reluctant public – you still can get it today, at no charge!
To qualify for no cost upgrade one needs to agree to use of assistive technologies. That includes features such as screen magnifier, a narrator, onscreen keyboard and other technologies to provide additional accessibility for those with physical or cognitive impairments.
Customers who opt in to assistive technologies can upgrade to Windows 10 at no cost.
As of writing of this post, once still can get a FREE Windows 10 upgrade until December 31, 2017. Hurry up, before you miss the second window.
Prerequisites are: one must be running Windows 7 or Windows 8/Windows 8.1 with a valid license. If you're running a Home or PRO version, you're going to retain your version respectively after upgrading to Windows 10.
Click on UPGRADE NOW button, save, then run the executable and follow the wizard prompts.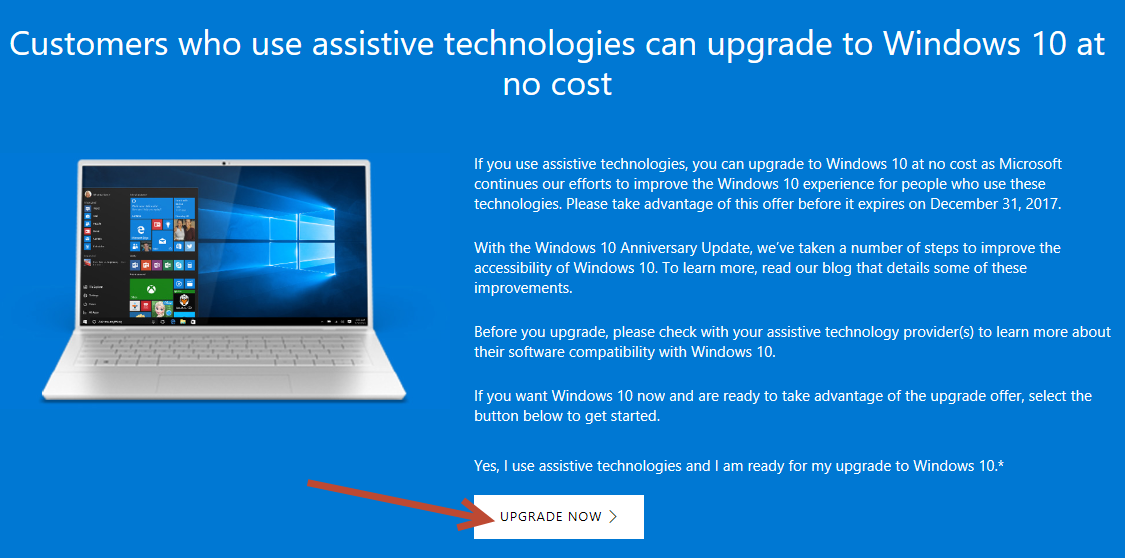 FAQs – From Microsoft Website
When does the upgrade offer extension end?
The accessibility upgrade offer expires on December 31, 2017.
Why should I upgrade to Windows 10?
Windows 10 offers experiences that are familiar, safer and more secure, and more personal and productive – enabling innovative new experiences. With the Windows 10 Anniversary Update, even more features and improvements in accessibility are available.
What assistive technologies are eligible for the extension?
We are not restricting the upgrade offer to specific assistive technologies. If you use assistive technology on Windows, you are eligible for the upgrade offer.
I'm planning on purchasing a third-party AT that I had not needed previously. Will the upgrade extension still be valid?
Yes. If you require assistive technology on Windows, you are eligible for the upgrade offer.